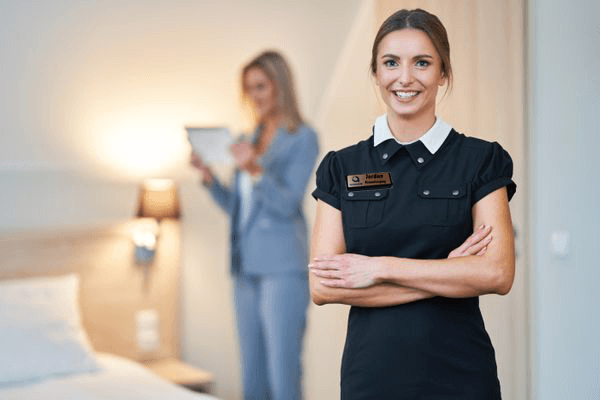 Hotel Staff Efficiency
Receive real-time data about how your staff members are working and where improvements can be made. With our solution, you can do this with the Anacove smart name tag that has our technology integrated.
Our hotel staff efficiency system product helps to:
Measure time of all daily housekeeping tasks

We analyze and compare results and make recommendations

Improve staff training, optimize staff schedule based on the data received.

Produce sustainable annual housekeeping labor cost saving of 5% - 15%

Directly drive an increase in property value.
We even replace the name tags annually, representing the best first impression for your property and staff. As a bonus, they will never need to be charged for use. This name tag can also help keep your staff safe with our Staff Alert service.
Add-On Hotel Staff Efficiency System Services
You can add any of the following when you take advantage of our staff efficiency services. When you add any of the below services, you are making your business more profitable and efficient. The below services will also give your staff and your guests more peace of mind.